About Us
Welcome to Nourish Lane
At Nourish Lane, we take pride in delivering informed advice which supports you in choosing from our wide range of quality vitamins & supplements, health foods, bulk foods, eco-friendly and sustainable products. Your optimal health and the health of the planet is our priority.
Customers love the friendly, welcoming vibe in our Mudgeeraba store, where we've been serving the local community since 1998. During that time, we've built a strong reputation for trusted, knowledgeable advice, quality products and competitive prices.
Current owners, Scott and Jo purchased Nourish Lane in 2019. Building on their passion for healthy living, sustainability and ethically sourced products, the couple are committed to stocking products they would happily feed to their own children, and which their trained staff believe in and are confident to recommend.
In 2021 Nourish Lane doubled with the introduction of its second store in Nerang Mall. Continuing on with the theme of locals looking after locals, we employed a Retail Shop Designer from Nerang, fit-out company from Nerang and joinery business from Nerang, you can't get much more local than that! What a beautiful store this one is too, perfectly positioned to cater for the health food needs of residents in Nerang and the surrounding Hinterland region.
These Gold Coast health food shops stock a comprehensive range of health foods, organic and gluten free foods, bulk foods, grocery items, baby/kids items, hair/face/body products, cleaning and eco-friendly home and gift products. We proactively source Australian made, sustainable and ethically produced products wherever possible.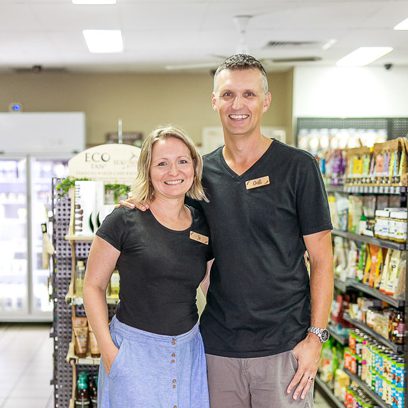 Why we're more than just an online health food store
For our team and our customers, it's all about SERVICE. We offer so much more than a regular online health food store.
Whether you wish to shop online, do "click and collect" or pop into our store in person, our friendly staff are on hand to assist you in choosing the most suitable product from over 2000 product lines we have in stock. We will also do our best to source any hard-to-find items on your behalf.
Our fantastic team of degree-qualified naturopaths are available in-store 7 days per week to provide professional guidance and recommendations. We also have a wonderful nutritionist who provides direction and informed advice on all your dietary needs. Through our knowledge and experience, you can be confident you've chosen the product best suited to your specific needs.
At Nourish Lane, we foster a sense of belonging by looking after our customers, taking care of the environment and supporting the wider community. We proactively give back and regularly donate to worthy causes, playing our part in helping make the local community a better place.
Thank you for supporting our family business
We invite you to browse our online health food store, call us for advice or pop into our Mudgeeraba store on the Gold Coast.
We appreciate your support for our local family business, and we look forward to being of service to you soon.
Scott & Jo