Indulgent Rum Balls
Indulgent Rum Balls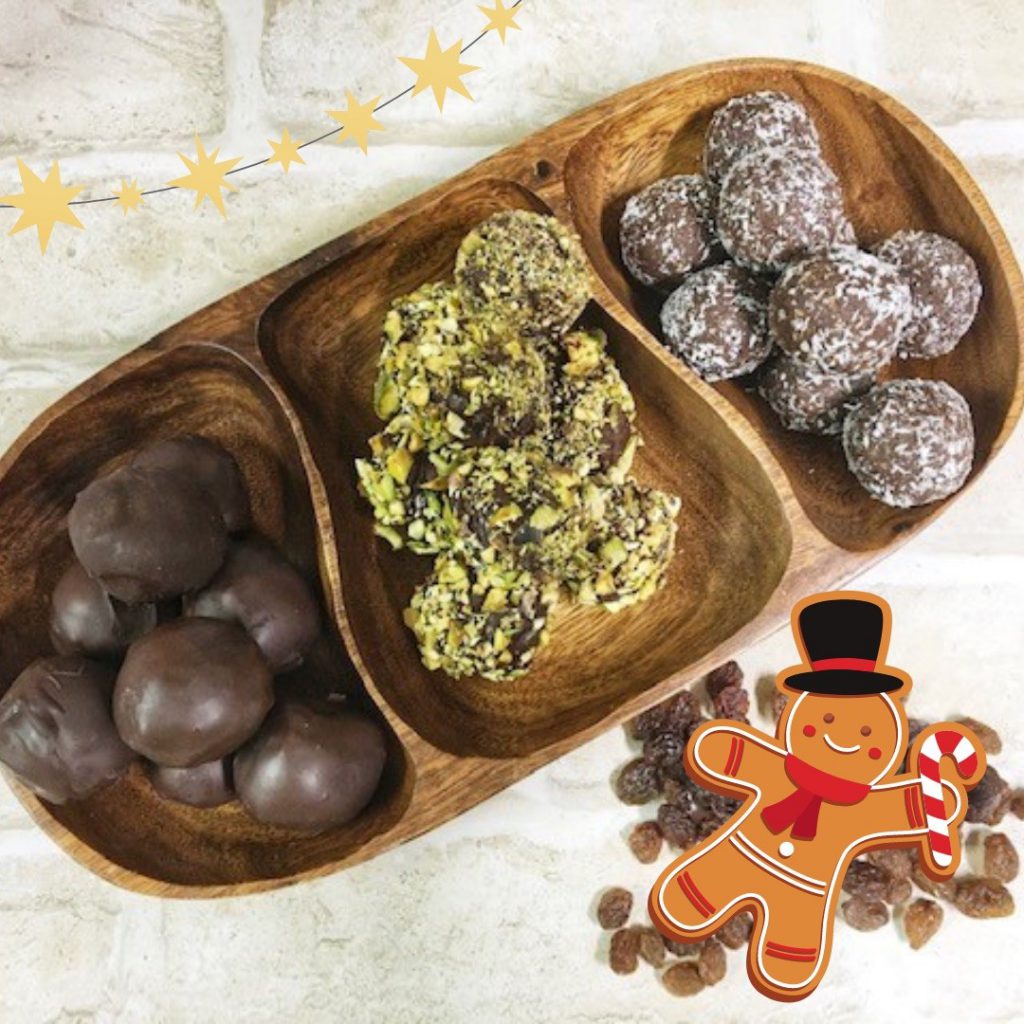 Prep time: 10 mins
Total time: 30 mins
Serves: Makes 24-30 balls
Ingredients
1 Cup raisins, diced and soaked in 4 Tbsp of Rum or rum essence
1 x 200gm packet of organic chocolate cookies
1 Cup of activated almonds
200gm of dark 75% organic chocolate block
1 tbsp of cacao powder
½ tsp fine celtic sea salt
50gm cacao butter (buttons)
2 x free range eggs (egg yolks only)
40gm unsalted butter
1 tsp of vanilla essence
¼ tsp vanilla paste
2 tsp Mesquite powder
2 tbsp Maple Syrup
3 tbsp desiccated coconut (as well as some for coating the finished balls)
Method
1. Marinate the chopped raisins in the rum/rum essence overnight.
2. In a whizzer, crumb the cookies first and then grind down the nuts to a fine meal.
3. Break up the chocolate and place in a ceramic bowl immersed in hot water with the rum to melt down.
4. In a large bowl place the raisins, melted chocolate, cacao powder, the cookie crumbs, almond meal, salt, mesquite powder and desiccated coconut.
5. Melt the cacao butter and organic butter in the bowl used for the chocolate previously.
6. Beat two egg yolks and add to the butter mixture. Add the maple syrup (Do not have the heat up too high or the yolks will curdle).
7. Once all mixed together, add this to the raisin/chocolate mixture.
8. Mix well together with a wooden spoon and then chill in the fridge for ½ hour.
9. Remove from the fridge and spoon out a large tsp size and roll into balls. Place these on a plate and use up all the mixture.
10. Finally decorate as you please. Use chopped nuts, plain or coloured desiccated coconut and/or coat in dark chocolate.
Store in a glass container in the fridge for up to 2 weeks or freeze for several months and defrost 5 minutes before serving
Lovely with either a strong coffee, dandelion cappuccino, or chai!!
Alternatives
To make ginger balls replace the raisins with glace' ginger and soak in ginger wine
To make apricot balls replace the raisins with diced apricots and apricot liqueur, use white, not dark chocolate and replace the biscuit crumbs for organic shortbreads. Other ideas – port and prune balls or coffee and Tia Maria marinated raisins with dark chocolate.
Variations
*Vegan
 Remove the butter and egg yolk. Add a further 20gm of cacao butter.
*Coconut free
Just remove and replace with extra nut meal
*Nut free
Use pepitas or sunflowers instead